Blackhawk members have access to a network of mountain bike trails for riders of all abilities. Over the past few years, we have transformed our trails from the "old school" rocky, rutted, fall-line style to new "flow trails" that are wide, fun, fast, and sustainable! We're open both summer and winter, with occasional closings due to rain or icy conditions. Any club member can use the trails. Access is allowed to all trails and facilities April 1-March 31. Summer season (approx. April 1-Oct 31): mountain biking, running, walking, events. Winter season (approx. Nov 1-March 31): Fat biking (4+" tread), snowshoeing, events.
Trail Conditions and CORP: Please check out the trail conditions at the CORP-sponsored website, and while you're there, please consider joining CORP to promote local trails (like Middleton Bike Park, our sister trail system) and other area programs. 
Mountain Bike Rules: Remember these five rules: ride safely, protect yourself, protect others, respect the trails, and communicate.
Memberships: Mountain Bike memberships ($25/student, $45/single, $90/family) are available for the mountain bike season (April 1-March 31). For Winter Fat Bike-only enthusiasts, Winter Fat Bike memberships ($25/single, $50/family) are available for those who wish to use the club only during the winter "Fat Bike" season (November 1-March 31). The trails are open to Fat Bikes only when snow is present, but winter fat biking is included in the annual Mountain Bike membership.
For more information, visit our Facebook page or join the Blackhawk Mountain Bike Members Facebook Group.
Bike Ambassadors: Blackhawk mountain bike ambassadors help improve member experience, promote safe riding, and serve as the "eyes and ears" of the club during peak riding times. 
Mountain Biking Lessons: Learn about our youth lessons here. 
Trail Improvements: We continue to improve our trails. Our first big project involved removing hundreds of dead ash trees throughout the property, especially along the Howling Wolff trail, thanks to dozens of volunteers. The second major project was to complete the two downhill trails in the Gully. We organize smaller work projects throughout the biking season, so please stay tuned for announcements. 
Mountain Bike Trail Funding: Please help us build and maintain our trails. Considering matching your membership with an equal size donation. Come out to volunteer to help maintain our trails, or join our list of Trail Supporters by making a larger donation. Learn more about how we pay for our trails here. Donate here to fund our trails.
Blackhawk's Mountain Biking History: Read about our mountain biking program history.
Check out our Mountain Biking and Hiking FAQs here.
Questions? Comments? Want to Volunteer? Contact our trail stewards at bike@blackhawkskiclub.org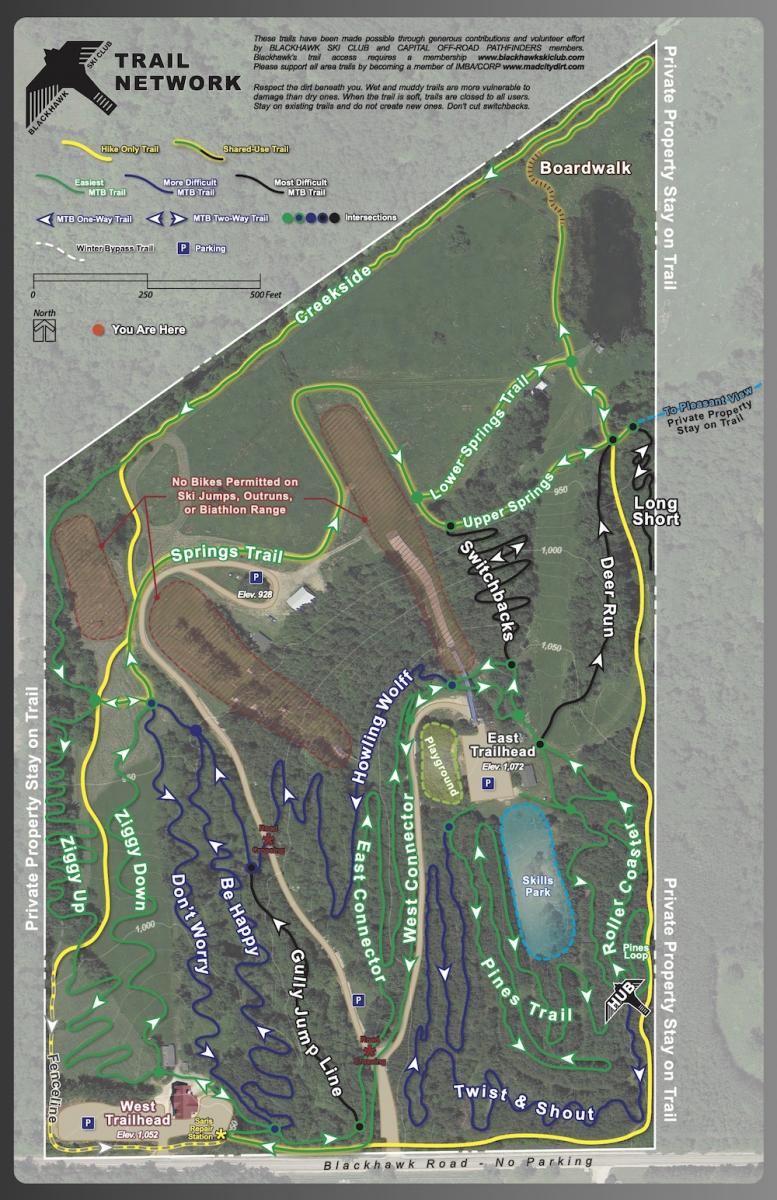 Summer Trail Map
COMING SOON!
Winter Fat Bike Trail Map