We need every member to volunteer at Blackhawk, so please let us know how you'd like to help by reviewing the volunteer options below and signing up or emailing the listed contact. Thanks!
Fall/Spring/Summer Volunteer Opportunities
Administrative Assistant: Organize files using office 365, organize and archive historical materials, assist in grant applications, and complete club mailings. 
Trail Volunteers: Volunteer to help maintain our hiking and biking trails!
Construction: We need some volunteers with carpentry/construction experience. 
Events: Work with Board to coordinate special events for members. 
Ski Trail Mowing/Trimming Coordinator & Volunteers: Work with Facilities & Operations committee and volunteers to mow trails, outruns and trim building, tow lines, etc. Coordinate pre-winter mowing of all Alpine and Nordic trails.   
Capital Campaign Committee: Join the committee to improve snowmaking, safety, and so much more at Blackhawk. 
Mountain Bike Ambassadors: Ride the trails in a spiffy yellow shirt and help other riders, answer questions, and generally be a friendly, supportive face on the trails.
Wood Splitting Volunteers: Channel your inner lumberjack and split some wood to heat the chalets this winter!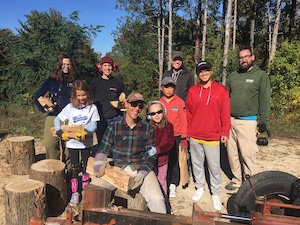 Winter Volunteer Opportunities
Ski & Snowboard Instructors: Do you enjoy being outside and working with kids? Looking for an opportunity to volunteer? We are looking for ski and snowboard instructors to help teach lessons throughout the week. Previous instruction experience is not required, and training is included. Join us for an informational Zoom meeting on Thursday, November 3, at 7:30pm.  We will go over plans for the season, what to expect as an instructor, and answer any questions you may have. Click here to join the Zoom meeting. Questions? Contact Kelley Linnan. 
Ski Patrol: We need a couple of enthusiastic people to fill out our 2022-23 toboggan training class, which starts in December. 
Chalet checkers: Sign up for a day of the week to check on the chalets. Tidy up when needed, empty trash and recycling as needed, place items in lost and found, alert Board to out of stock items.  
Fire Pit/Fireplace checker: Sign up for a day of the week to check the fire pit at West chalet. Start fire for open ski, monitor wood pile, tidy up as needed, move fire pit out of way for snowplow at end of the day (if snow is likely). 
Tow Rope Monitor Coordinator: Using a sign-up application, set up times for rope tow monitoring on Hills 1&2. 
Snowmaking Volunteer Coordinator: Set up times/days for take-down of snowmaking equipment. Works closely with Lead Snowmaker. 
Snowmaking Volunteers: Set up snowmaking equipment at night (usually 8pm-10pm) or take it down in the morning.
Membership Check Coordinator: Work with Board to arrange times/dates and volunteers to check for memberships at open ski times and on Nordic trails. 
Winter Ambassadors: You've seen our new mountain bike ambassadors on the Blackhawk trails in their yellow shirts, and now we're recruiting for ski ambassadors!  This is an opportunity to share your knowledge of the club with new people and get to ski at the same time. We are looking for both Alpine and Nordic skiers to be at the club during open ski hours.   
Snowplowing Coordinator: Operate the Kubota and plow in areas not reached by the snow removal service and for light snow in between service and monitoring shoveling of steps/walkways. Arrange for volunteers to cover days/weekends through the winter. 
Communications Volunteers: Help with website, social media, and newsletter.
Contact kelsey.berg@blackhawkskiclub.org to let us know how you're interested in helping out.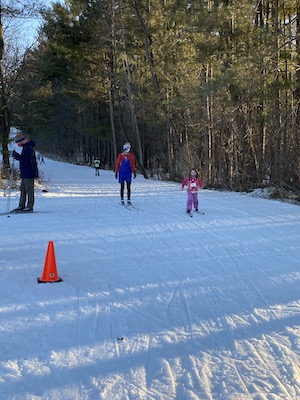 New this year: Mandatory Rope Tow Monitoring for Full Access Members
All Full Access members are required to sign up for one two-hour shift monitoring the rope tow.
Full Access Member Tow Rope Safety Training: During registration, we asked all full access members to acknowledge that tow rope monitor training was required. This training will take place the first two weekends in December during alpine lessons (9am-12pm). When everyone is trained, we can ensure the tows will operate!  Training may also be arranged with your team (jumping, BART, Telemark).  
Tow Rope Monitor Coordinator: We are in need of a leader for a sign-up application to organize tow rope monitors. This fulfills all shifts for your family.  
Tow Rope Monitor Shifts: Our tows must be monitored during operation. Adults/teens over 16 may sign up for shifts throughout the year. At least one shift per family is required.