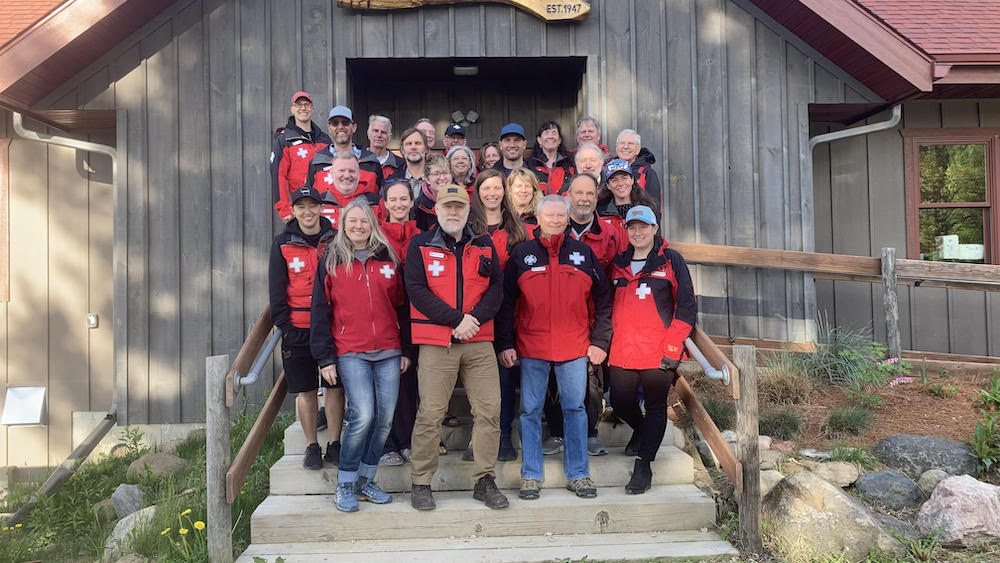 The Blackhawk Ski Patrol are active registered members of the National Ski Patrol System. The National Ski Patrol was founded in 1938 and follows the creed of "Service and Safety." Patrollers work towards and promote safe skiing and riding to reduce accidents and make mountain sports more enjoyable for all who participate.
The Blackhawk Ski Patrol was formed in 1962. We currently have 30 active members who come from a wide array of backgrounds, professions, and experiences. We all share a love of snow sports and a desire to help others. We are volunteers trained in Outdoor Emergency Care and CPR to help you just in case the unexpected happens. While skiing can be fun and safe, occasionally injuries do occur. We're here to offer first aid care, answer questions, summon definitive care, and help provide a safe and enjoyable experience to all members of Blackhawk Ski Club.
In 2020 Blackhawk Ski Patrol was awarded Outstanding Small Alpine Patrol. Read more about Blackhawk Patrol history.
Safely Enjoying All That Blackhawk Has to Offer
Responsibility Code
Members enjoy Blackhawk Ski Club in many ways--we have Alpine skiers, snowboarders, Nordic skiers, ski jumpers, biathletes, mountain bikers, runners and hikers. Regardless of how you decide to enjoy the slopes, always show courtesy to others and be aware that there are elements of risk in skiing and riding that common sense and personal awareness can help reduce. Observe the code below so that everyone can have a great experience.
Always stay in control and be able to avoid other people or objects.
People ahead of you have the right of way. It is your responsibility to avoid them.
You must not stop where you obstruct a trail or are not visible from above.
Whenever starting downhill or merging into a trail, look up and yield to others.
Always use devices to help prevent runaway equipment.
Observe all posted signs and warning. Keep off closed trails and out of closed areas.
Prior to using any lift, you must have the knowledge to load, ride, and unload safely.
Know the code. It's your responsibility.
Helmets
We highly recommend helmets when on the slopes and bike trails. The use of a helmet reduces the risk of an injury. Here is some additional safety information: 
When Help is Needed
When the ski hills serviced by rope tows are open, Blackhawk Ski Patrollers are on duty and ready to help. If someone is injured on the hill, alert the patroller on duty. As an all-volunteer patrol, your help is appreciated, so feel free to ask how you can assist – the patrol may need someone to turn off a rope tow or find a child's parents. Trails for Nordic skiing, biking and running/hiking are not regularly monitored by Ski Patrol. If the rope tows are running, patrollers can be found on the Alpine ski trails and directed to an injured person. However, if an injury occurs when Ski Patrol is not on duty, you can help the injured person by getting a First Aid Kit (located in the West and East Chalets). If needed, call 911 and provide the address of the Blackhawk Ski Club, the location of the injured person, and any available information about the injury and status of the person in need of help.
New in Summer 2023: Blackhawk Bike Patrol
Trading out their skis for bikes, eleven members of the Blackhawk Ski Patrol made it out for a quick photo op on a busy Tuesday night to represent our new bike patrol program. This new pilot program is intended to promote bike safety and assist with injuries on our trails during the mountain bike season. Currently, the Bike Patrol consists of eighteen Ski Patrollers trained in Outdoor Emergency Care.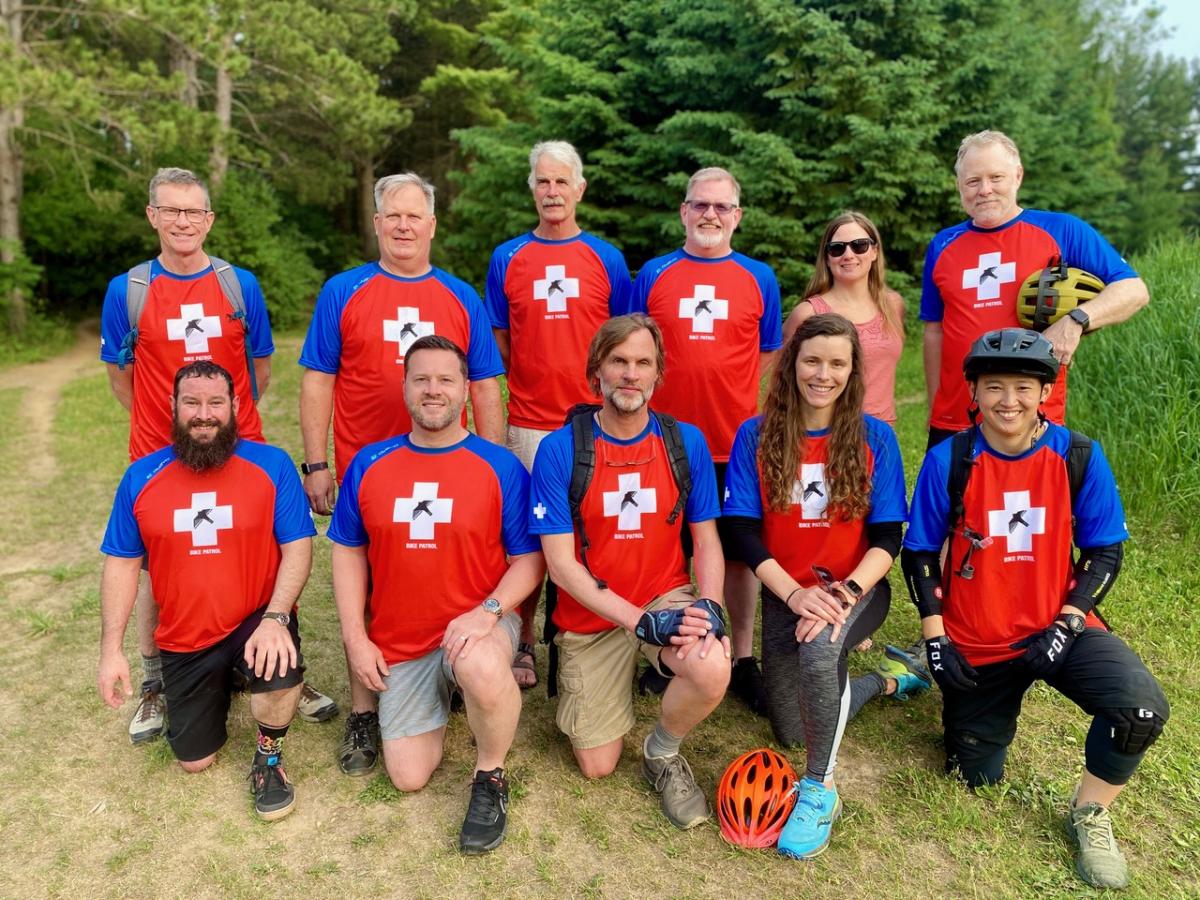 Join the Blackhawk Ski Patrol
We are always looking for new patrollers to join the Blackhawk Ski Patrol. There are many benefits to being a patroller. Blackhawk Ski Patrollers are an integral part of the operations at Blackhawk Ski Club. They enjoy the camaraderie and friendships made on the patrol, share their love of snow sports with the club members, and most of all, help others.
If you are interested in becoming a patroller, email skipatrol@blackhawkskiclub.org, and we will contact you and answer any questions you might have. You are always welcome to come talk to any patroller while you're at the club.
Patrollers benefit by learning and maintaining skills in first aid and safety, improving their own skiing or snowboarding abilities, making friends, and enjoying the many perks of being a member of Blackhawk Ski Patrol and National Ski Patrol. Patrollers get a free family membership to Blackhawk Ski Club and access to the membership benefits of National Ski Patrol including continuing education, discounts on outdoor gear, and discounts at some ski resorts.
Steps to become a patroller:
Contact Blackhawk Ski Patrol Director Rob Kudrle to express your interest.
Complete the Outdoor Emergency Care (OEC) Course.  This course teaches you to assess an injury or illness and render emergent first aid until the patient can get to definitive care.  The OEC course typically begins in the late spring and runs through early fall. The class meets once per week in the evening and encompasses ~80 hours of coursework.
Complete the training course for ski or snowboard proficiency and toboggan handling for patient transport. This course meets once per week in the evening from December through early March.
Commitment of Blackhawk patrollers:
Sign up for one shift per week that the Club is open during the winter season. Shifts are generally 3-4 hours. The time commitment for being a Blackhawk Ski Patroller is much less than required by other area Ski Patrols, making it a great option for those who want to be a Ski Patroller, but have less time available for this volunteer commitment.
Annually attend a 1-day refresher of OEC skills and a 3-hour ski/snowboard and toboggan refresher.
Keep CPR certification current.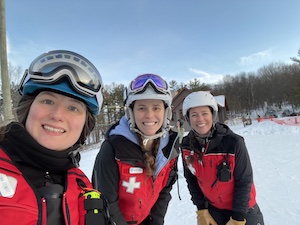 More information
Do you have questions about ski patrol or want more information? 
Contact Blackhawk Ski Patrol Director Rob Kudrle
National Ski Patrol membership FAQ
Being a Member of National Ski Patrol