Intro to Ski Jumping Classes Available 
Is your young skier looking for a new challenge or something different to do this winter? Skiers who can easily ski down Hill 2, usually ages five and older, are welcome to try ski jumping. Blackhawk offers an Introduction to Ski Jumping class on Tuesday evenings at 5:30, Saturday mornings at 10:15, and Sundays at 12:30. Beginning ski jumpers will learn the basics of ski jumping in their alpine equipment. When athletes are confident on the ski jumps, coaches will help transition kids to jumping equipment that the program provides. New jumpers have a chance to participate in Blackhawk's home tournament each February. As young jumpers progress, they can choose to join the Blackhawk Ski Jumping Team. Helmets and a sense of adventure are the only requirements.  
More information on ski jumping at Blackhawk can be found on our Youth Programs Ski Jumping page. 
Questions? Contact Girly Gessner at jumping@blackhawkskiclub.org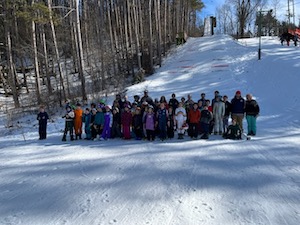 Member Spotlight: Anna Hoffmann, Ski Jumping 
Blackhawk's own Anna Hoffmann represented the US in World Cup ski jumping competitions in 2021, helping USA Nordic earn spots for the 2022 Olympics. Hoffmann competed in Ramsau, Austria, along with three other USA Nordic team members. Hoffmann began ski jumping at the age of three along with her three older siblings on Blackhawk's smallest jumps. Losing patience watching everyone else jump, Hoffmann turned to her mom, stomped her foot and said, "My turn!!!" That was the start of a long journey in ski jumping. 
Along with her siblings, Hoffmann started with weekly practices at Blackhawk on Tuesday and Thursday nights. On weekends, she went along with the family to tournaments in Wis, Minn, and Illinois (the Central Division). Hoffmann started competing and making lifelong friends she would travel and compete with still today. 
Feeling the amazing sensation of "flying" motivated Hoffmann to continue developing her skills. In junior high, she started traveling out of the Central Division and attended training camps and competitions in Steamboat and Park City with the Central Division Development team following in the footsteps of her sister Elyse and brother Joe. Hoffmann continued balancing traveling and competing and attending Madison Memorial High School until she graduated in 2018. 
Hoffmann attended the University of Utah in Salt Lake City, earning the US Olympic Committee's highest academic scholarship in 2019 and representing the U.S. at the 2022 Winter Olympics.