Happy summer, everyone! It's been great to see so many of you out on the mountain bike trails, hiking, birdwatching, ski jumping, etc. Here are a few updates for June.
Hiking Trail & Ecological Restoration 
Please join us for an Introduction to Restoration Efforts at Blackhawk, led by board member Joe House, who is also a certified arborist and instructor of urban arboriculture.  
When: Monday June 21st, 5:30-7:30 pm, followed by a campfire social at the top of Hill 2 (West Chalet Area). 
Where: We will meet and park at the bottom of the hill by the Ski Jumper's Chalet.  
Note: This will not be a "work" party, per se, but rather an informational discussion about ecological restoration at Blackhawk to achieve goals consistent with recreational use of our land. Goals of restoration include erosion control, reforestation, and non-native and hazardous vegetation removal. Participants will hike around the club to look at and learn about various invasive species and discuss future management techniques, including the limited use of herbicide and targeted plantings, as well as the need for volunteers.  
Wear shoes for hiking and bring insect repellent. BYO Beverage/snack to share, to continue the discussion around the fire. All are welcome, and we can accommodate a parallel kiddo-friendly conversation/activity about taking care of the land, as well. 
Questions? Contact Jill Stevenson at jill.stevenson@blackhawkskiclub.org 
Club Program Spotlight: Mountain Biking Lessons 
Our mountain bike program has its highest-ever numbers this year, with many new and returning faces. All the photos in this month's newsletter are from the program! Let's hear from one of the participants about the experience: 
"The courses they make to practice skills are super fun. If you don't feel comfortable doing a trail, they are fine with having an instructor do a different trail with you." 
There you have it, straight from a satisfied participant. Happy riding, everyone!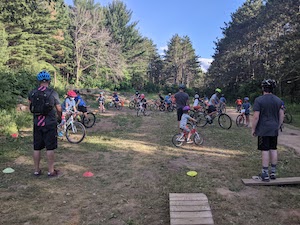 Blackhawk Hosts NICA/GRiT Event and Makes the Local TV News 
Blackhawk co-hosted a free Try-it-Out Event for the NICA mountain bike association's Girls Riding Together (GRiT) program on Sunday, June 6. Over 50 girls participated in two sessions that covered basic skills and included rides on Roller Coaster and Twist and Shout. Here's a link to the coverage from Channel 3 News: 'GRiT' event gives Dane County girls a chance to learn mountain biking skills. 
Get Your Vehicle Tag!  
Mountain Bike Ambassador Andrea Dlugos is available to get your vehicle tag to you on Mondays from 4-6pm. Find Andrea on the trail and let her know you'd like to pick up your tag. Or, mail us a self-addressed stamped envelope to P.O. Box P.O. Box 628094, Middleton WI 53562-8094, and we will send it to you.  
Upcoming Special Events at Blackhawk   
June 19-20, West Chalet, NICA CPR/First Aid Training course. Dirk.horne@blackhawkskiclub.org  
June 21, 5:30-7:30, meet and park at the bottom of the hill by the Ski Jumper's Chalet. Hiking trail & ecological restoration work party followed by a campfire social. Email Jill.stevenson@blackhawkskiclub.org for details on the event.  
June 25-27, Biathlon Range/Haus/adjacent field, Biathlon Camp for youth and adults.  Email for details:  Biathlon@blackhawkskiclub.org  
June 26, 9:00-11:00:  Blackhawk Composite Pre-Season Bike Safety Check - East Chalet.  Email for details: dirk.horne@blackhawkskiclub.org  
June 30, July 11, July 21, August 14-15, Ninja Mountain Bike Skills Camps  
July 21, 6-7:30pm, Blackhawk Composite Mountain Bike Team practices begin on Wednesdays 
Please Join Us as a Volunteer  
Our club is only as good as its volunteers! Our Board and Committees are here to coordinate, and it is up to all of us to pay our dues and contribute to making it a vibrant and healthy recreational experience. There are so many ways you can help volunteer at Blackhawk, and we encourage every family to find something that interests you and join us! Year-round, there are opportunities on the board and committees (membership, communications, events, and facilities committees, to name a few). In the summer, we always need help at work days, or get trained to use our mower and string trimmer. Next summer, we'll be on the lookout for new mountain bike ambassadors and lesson instructors. In the winter, we need many snowmaking volunteers, volunteer groomers, volunteer ski patrollers, lesson instructors, and tow rope monitors. Speaking of winter... 
Help Us Make Great Snow Capital Campaign 
Blackhawk is looking for a few volunteers to help us organize and lead the capital campaign to take our snowmaking process to the next level. Changing climate and drought conditions increase the demand for snowmaking. The biggest challenge for snowmaking is the volume of available water, and it has become clear that our pond is not up to the demand. The solutions being proposed are not inexpensive. We are looking into drilling a high capacity well that will dramatically enhance our snowmaking capabilities. Please contact board@blackhawkskiclub.org if you are able to be part of this important initiative. 
Lost and Found 
We now have a Lost and Found inside the East Chalet, so if you've misplaced something on the mountain bike trails or elsewhere, you may want to take a look. 
COVID-19 Guidelines 
We've updated our COVID-19 guidelines, in accordance with Dane County Public Health and the CDC. Check this page for updates: https://blackhawkskiclub.org/news/covid-19-precautions 
Have an Item for the Newsletter? 
If you'd like to share Blackhawk-related news with our membership, email Katie Ginder-Vogel (katie.ginder-vogel@blackhawkskiclub.org) with your name/role, program (if applicable), audience (all-access members, mountain biking members only, etc.), and the basics of what you'd like to say. Thanks! 
 
Enjoy the start of summer! 
Warmly, 
The Blackhawk Board of Directors