April 2022 Newsletter 
Happy spring, everyone, and welcome to our new hiking and mountain biking members! We look forward to seeing all of our members on the mountain bike and hiking trails, birdwatching, visiting the Otter Den, and whatever other outdoor exploration activities capture your interest this spring. 
Spring is fully underway, with a fun-filled summer to come. We doubled our capacity for youth mountain bike lessons this summer and fall, and they still filled up in 30 minutes. Astounding! We look forward to seeing more kids on the trails. Our brand-new Outdoor Exploration program for kids filled up immediately, and we are excited to see so many children enjoying being out in nature. Spring Nordic Kids is almost underway (a few spots open to all youth members ages 5-11) and summer ski jumping begins soon. Get ready for a trail work day April 23 and a family campout April 29. Read on for more details!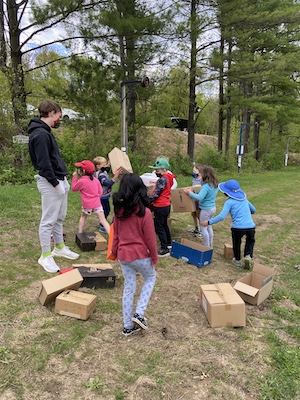 Special Thanks to Our Ski Patrol 
Before we go into more detail on spring activities, we want to extend special thanks to our amazing Ski Patrol team for keeping us safe all winter. This year, our ski patrol opened the hill for 94 days of downhill, including all our amazing youth programs! We truly can't thank them enough for being the reason we can all enjoy the little winter gem that is Blackhawk Ski Club. Extra-special thanks to Ski Patrol Director Ken Matusek, who retired this year as director after 30 YEARS! Ken, you are a force of nature. And a warm welcome to our new director!
Prime the Pump Update  
Thanks to your generosity, we are two-thirds of the way towards our goal of $120,000 to pay for the high capacity well. This summer, we plan to install the piping from the pump in the pines to the cooling pond near the Otter Den (that's a lot of pipe!). This will take volunteer efforts, as well as continued financial support for the project. We still need to pay for the pump, piping, and electrical work. Please let us know if you would like to help putting in the pipes or in any other way! Board@blackhawkskiclub.org 
Annual Meeting Recording 
Thank you to those who joined us for Blackhawk's annual membership meeting on April 11! Here's the meeting recording.
Reminder to update your household info in our new SkiClubPro platform 
ALL MEMBERS, now is the time to log into our new SkiClubPro platform with your existing Blackhawk email and password and update your address and household information.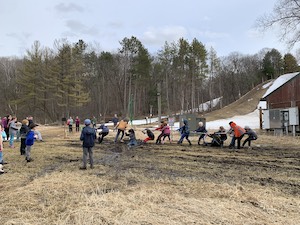 Upcoming Events 
April 23 9am Spring Trail work day. Meet at the East Chalet.   
Nature Exploration (April-June) Sundays, 2-3pm 
Spring Nordic Kids will be held 4 Sundays April 24 through May 15. 
Spring Ski Jumping (April-June) Tue 5:30-7:00 
Family Campout April 29 
Biathlon (May-Oct) Tue/Thur 5:30-7 
Nordic Ski Team (June-August) Mon & Thur, 5:30-7 Lake Farm Park and other trails 
Youth Mountain Bike Lessons (June-August, East Chalet): Mon, Tue, Thur 6-7pm, Wed 4:30-5:30 
Biathlon Clinic, June 9-11, registration coming soon 
Nordic Ski Team MS/HS Summer Training, June 8-Aug 13, registration coming soon 
Nordic Ski Team Summer Camp, June 25-25, registration coming soon
Blackhawk Composite NICA youth mtn bike team practice (July-Aug) Wed 6:30-8; (Sept-Oct) 5:30-7pm  
Volunteers Needed
Weekly work crews will be added as the season progresses and would welcome anyone to join us. To learn more about more volunteer trail opportunities, contact pat.remington@blackhawkskiclub.org. 
Bike Ambassadors help promote safe riding, and answer member questions. Interested in joining our crew? All you have to do is come and ride for 2 hours each week. If you're interested, check out the details here. 
Youth mountain bike instructor volunteers needed 
Looking for a way to help out this summer? We are looking for youth mountain bike instructor volunteers for our weeknight summer and fall sessions. Previous instructor experience isn't required; training is included. Email Kelley Linnan for more information and to volunteer.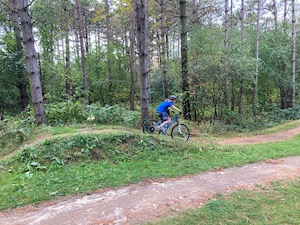 Restoration Work Day Update 
Thank you to all the volunteers who came to our Restoration Work Day on April 16! We planted, mulched, and watered 400 native plants and trees, including Red Oak and Sugar Maple trees, and silky dogwoods, elderberry, and juneberry shrubs. We had a lot of fun, and our stewardship efforts will pay off so long as we continue to WATER our "babies." Contact Jill Stevenson if you would like to help with watering (and fulfill your volunteer commitment at the club!) jill.stevenson@blackhawkskiclub.org