We hope you're all enjoying the start of summer! Included in our May/June newsletter is some important news about Pleasant View construction THIS WEEK, as well as exciting updates about all our summer programs. See you on the trails!
No Access to Blackhawk Rd. From Pleasant View Rd. 6/14-6/16 
Please note that due to construction, there will be no access to Blackhawk Rd via Pleasant View Road from Old Sauk from Wednesday June 14 til Friday night on June 16. You can still get to the club from the other direction—we recommend checking your map before you head over to find an alternate route! This is the first of what will likely be many road closures and detours throughout the summer and fall; so stay strong and travel with map/GPS. 
New this summer: Bike Patrol 
Trading out their skis for bikes, eleven members of the Blackhawk Ski Patrol made it out for a quick photo op on a busy Tuesday night to represent our new bike patrol program. This new pilot program is intended to promote bike safety and assist with injuries on our trails during the mountain bike season. Currently, the Bike Patrol consists of eighteen Ski Patrollers trained in Outdoor Emergency Care.  Feel free to say hello if you see them on the trails. If you've ever considered becoming an Alpine or Nordic Patroller during our winter months, please check out our Ski Patrol page. We're always seeking out new candidates.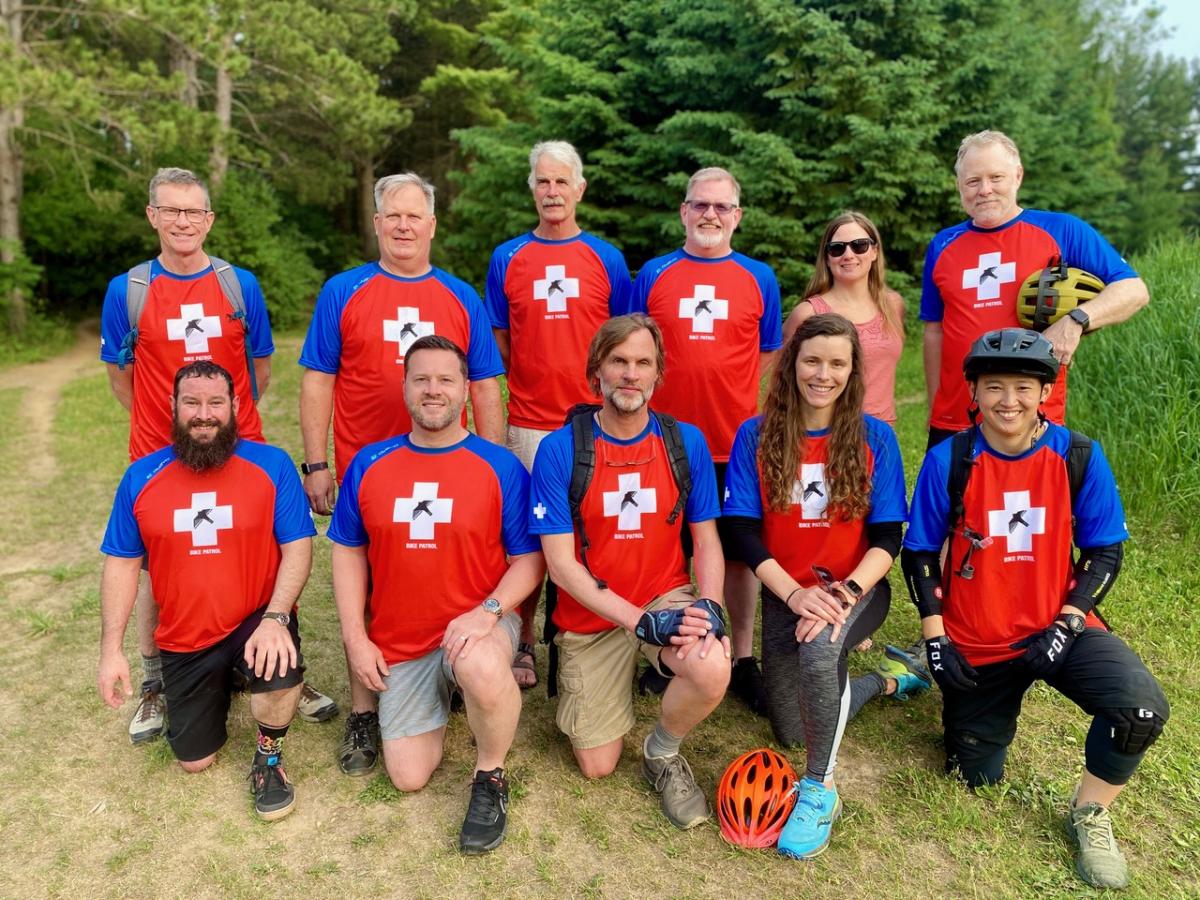 Also New This Summer: Private Mountain Bike Lessons 
Blackhawk Mountain Bike School offers private mountain bike lessons to all Blackhawk members with a current membership. Lessons will cover proper body position and balance, how to brake and turn, and can progress into rollers and jumping! Private lessons can be scheduled any time there aren't group lessons scheduled, and the trails are open for riding. The cost for a lesson is $50.00 per hour for the first participant and $25.00 per hour for each additional participant, so you can request a completely private one-on-one lesson or put together your own group. For more details, visit our web page. For questions and to schedule private lessons, contact our private lessons director, Porter Linnan, at bhmountainbiking@gmail.com. 
Youth Group Mountain Biking Lessons are Underway  
Our summer youth mountain biking lessons have begun and are going well! Youth lessons are Mon-Tue-Wed nights, from 6-7pm, so if you want to ride those days, it's best to come before 6 or after 7. If you do come at that time, please park at the West Trailhead. 
First Annual "Celebrate the Trails Day" Saturday, July 1 
Our first annual "Celebrate the Trails Day" is planned for Saturday, July 1, from 9am-12pm. Come out to enjoy the trails and celebrate our 10th anniversary as a program. There will be group rides, skills demonstrations, and more. Email bike@blackhawkskiclub.org if you have any questions or would like to help out.  
Blackhawk Mountain Bike Committee 
Our mountain bike program is coordinated by a committee of volunteers who meet monthly to help with youth lessons, competitions, special events, bike safety, and trail maintenance. If you're interested in getting involved or have suggestions for ways that we can improve our member experience, please contact us at bike@blackhawkskiclub.org.   
Mountain Bike Trail Crew Updates 
We had a great work day, helping Jeremy Witek and Ola Portuondo build wood features in the Pines Hub. Come out and test your skills! 

A small crew of dedicated volunteers is moving dirt onto our flow trails, bringing the berms and rollers back to the condition they were in when first built almost a decade ago.  

The Playground is now a clockwise trail, connected to the Twist and Shout return. Check out the beginner berms near the well.  

The board approved a contract with Global Action Sports Solutions (aka Jeremy Witek), to build a beginner pump track, complete the wood features in the Pines Hub, and improve Howling Wolff by adding a winter return. GASS is continuing to finish last year's contract by "greening" the connector trails to create easy ways for beginning riders to go to and from each trailhead.  

As always, we can always use help with our trails. If you have time, email bike@blackhawkskiclub.org to let us know.  
Family Campout Friday, 6/30 
Friday June 30, Outdoor Exploration will host a family campout. All are welcome! Arrive as early as 6pm, bring a tent and your dinner to the Biathlon Haus. Join us at 7 pm for games and fun (even if you aren't camping). Bring frisbees and footballs! After dark, we'll go for a night hike. Wake up in the morning to enjoy Celebrate the Trails Day! Hope to see you there. Email jill.t.stevenson@gmail.com if you have questions.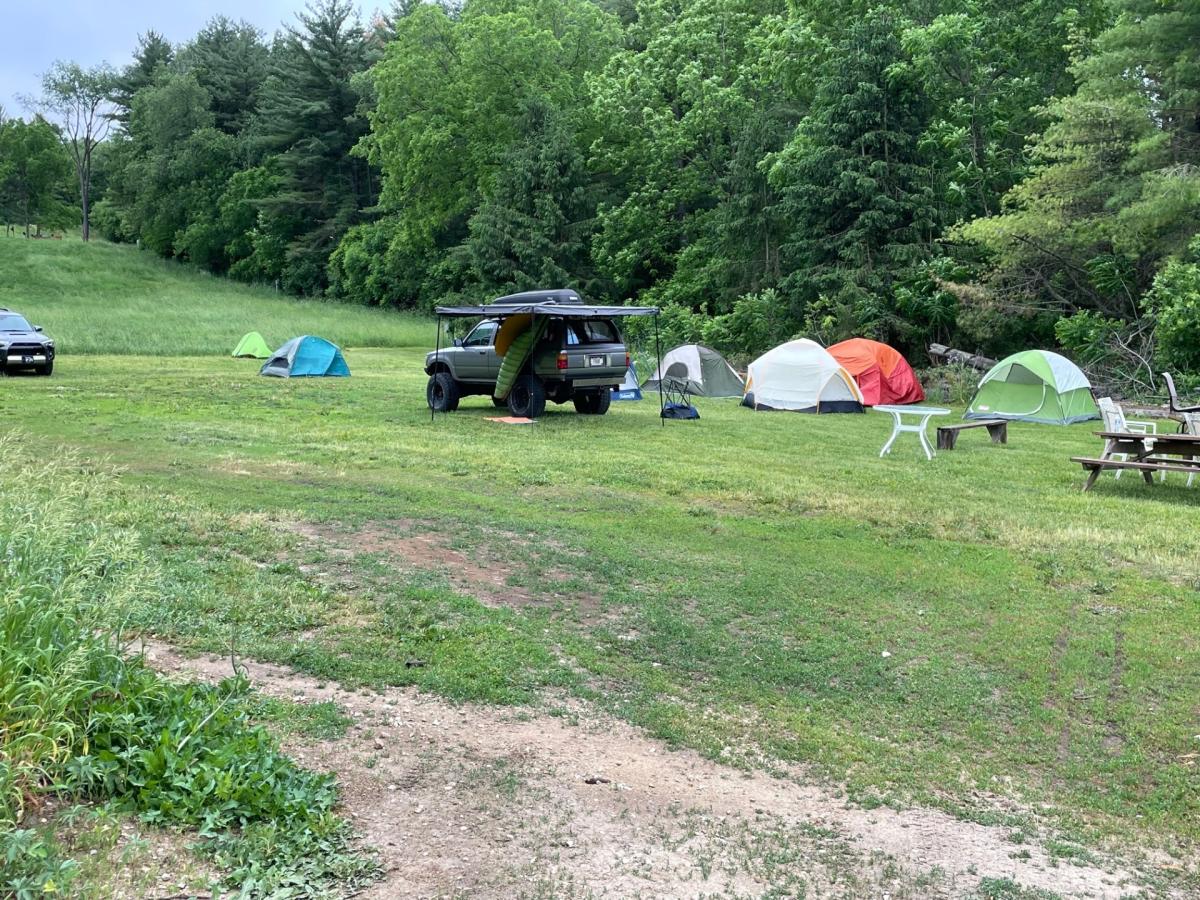 Interested in Bike Camping at Blackhawk? 
If you are interested in biking to Blackhawk and camping overnight, please contact Larry Meade at meadelaurence@gmail.com using the subject "Blackhawk Bike Camping" so he can coordinate a date for the event. Camping will occur near the East Chalet on one night between a future Thursday and Sunday. A night ride will also be included. 
Seeking an Outdoor Exploration Leader 
Outdoor Exploration: The club is looking for a volunteer to lead and develop our emerging Outdoor Exploration Program. The Otter Den, located next to the pond, is the home of the program. Past events have included nature walks, a campout and fishing in the pond. Anyone who is interest in leading this program is encouraged to contact Rick Hardy at rick.hardy@blackhawkskiclub.org 
Summer Biathlon Camp 
We just finished a great three-day biathlon camp with 22 biathletes from Iowa, Indiana, Illinois, Michigan and Wisconsin, including youth from the Bay Nordic, Peak Nordic and Blackhawk Ski Clubs.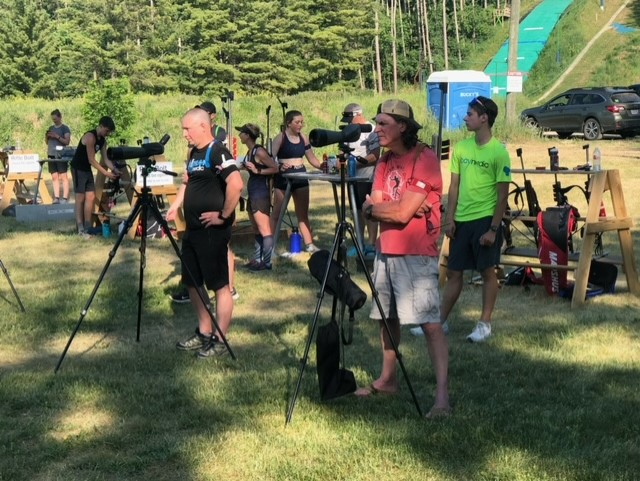 Volunteer at Blackhawk this Summer 
Summer volunteering opportunities can be found here. Trail Work Days are ongoing; email bike@blackhawkskiclub.org if you're interested in volunteering. 
Run the Hawk August 26
Blackhawk Ski Club will be the host site of another Run the Hawk Trail Run on 8/26. The event will consist of a 3K/5K fun run, as well as a 3-hour, 6-hour, and 12-hour ultra endurance challenge. The ultra challenges have both individual and team relay options, and the goal is to complete as many 2.15 mile loops around the Blackhawk trials as possible in the designated time. More information can be found by following this link: Run the Hawk Trail Runs.
Driftless Mountain Bike Team Update
Driftless Mountain Biking is a group of three Wisconsin Interscholastic Cycling League teams (Middleton, Mount Horeb, and Waunakee) that practice at Blackhawk from July through October each year. The group is open to 6th-12th grade students in the Middleton-Cross Plains, Mount Horeb-Barneveld, and Waunakee school districts looking to develop and/or improve their mountain biking skills. Combined practices with all three teams are on Thursday nights 6:00-8:00pm, and the individual teams practice at varying trail systems in the area on Tuesday nights 6:00-8:00pm. Look forward to the Driftless Mountain Biking Bike Rodeo Weds, June 28. Details to come!
Ninja Mountain Bike Camps
Ninja Mountain Bike Camps take place Aug 19-20, Oct 14-15. More details here.