Happy Winter, members! We are so happy you have chosen to make Blackhawk your place for fun and learning this winter. As a board, we want to extend a warm welcome to everyone, from those who have been members for generations to our newest members who have yet to see our club in its snow-filled wonder. Our newsletters and website are full of information on open ski times, hill conditions, and special events. Our calendar contains open alpine skiing hours, team practice and group lesson times.  If you have any questions, please reach out to us; we are here to help! board@blackhawkskiclub.org 
Amy Grunewald Mattison, President 
Blackhawk Board of Directors 
Trail and Hill Conditions
Keep an eye on the home page for trail and hill conditions! For biking and hiking, we have entered the freeze-thaw stage of the year!  Trails can only be ridden and walked when totally frozen. Springs Trail and Howling Wolf will be closed until snowcover is complete, and Creek Trail is now two-way. Once the trails are snow-covered, we ask hikers to wear snowshoes, not boots, and we can welcome fat bikes to the trail. Check trail conditions here and read about fat biking at Blackhawk here. Hiking/Biking memberships are year-round (April 2022-March 2023) 
Well & Pump Update 
The well is pumping water, and our pond has never been so full! The pump was tested 12/2, and everything rolled as planned. We now have a source of water to provide up to 700 gpm (gallons per minute) of water to keep our cooling pond full for snowmaking! A huge THANK YOU to everyone who saw this project through, especially our volunteers this fall and Casey Bingham for the work they did trenching, tree cutting, hauling pipe, linking pipe, engineering pipe, and so much more! 
Winter Volunteering 
There are so many ways to volunteer at Blackhawk in the winter! We are looking for ski (nordic and alpine) and snowboard instructors to help teach lessons (group and private) throughout the week, members to join our 10-week December Toboggan training course to become ski patrollers, help with our Winter Carnival and so much more! Learn more on our volunteer info page. [katie will add link]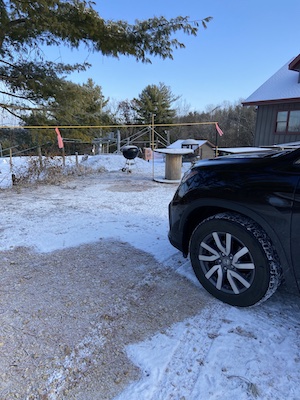 Parking Reminders
Please park between the orange tags to make room in the lot for everyone!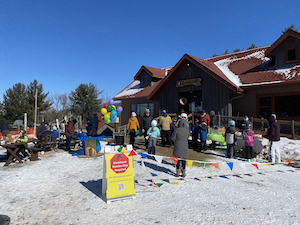 Winter Carnival Planning 
Help plan the winter carnival or hear more about volunteering at the carnival on Saturday, February 18. Join us for a quick meeting Saturday, December 10 from 10-10:30 at the West Chalet. 
Need Private Lessons?
Looking for private ski, snowboard, or Nordic ski lessons? Learn more here.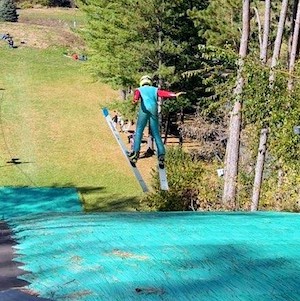 Intro to Ski Jumping Classes Available 
Does your young skier enjoy racing down hills 1 and 2 searching out any bump jump they can find? Is your child looking for a new challenge or something different to do this winter? Skiers who can easily ski down hill 2 (usually ages five and older) are welcome to try ski jumping. 
Blackhawk offers an Introduction to Ski Jumping class on Tuesday evenings at 5:45, Saturday mornings at 10:15, and Sunday afternoons at 12:30. Beginning ski jumpers will learn the basics of ski jumping using their alpine equipment. When athletes are confident on the ski jumps, coaches will help transition kids to jumping equipment that the program provides. New jumpers have a chance to participate in Blackhawk's home tournament on February 12th, 2023. As the young jumpers progress, they can choose to join the Blackhawk Ski Jumping Team. Helmets, tow rope gloves, and a sense of fun and adventure are the only requirements. More information on the program can be found at SKI JUMPING. 
Questions? Contact Contact Girly Gessner at jumping@blackhawkskiclub.org. 
Women's Alpine Ski Clinic 
 We are offering an alpine ski clinic for women taught by women! Do you want to improve your skiing or take it to the next level? Want to ski with friends and make some new friends? Need some tips to ski longer or more efficiently? Join us for an afternoon of skiing Sunday, December 11 from 3-5pm or Sunday, January 22 from 3-5pm. Cost is $50/per session, members can sign up for one or both sessions. Email kelsey.berg@blackhawkskiclub.org to sign up. 
Women's Cross Country Ski Nights 
Mark your calendar for an evening of Nordic skiing and festivities! Beginners and Experienced skiers welcome. Meet at the Biathlon Haus to ski and return there for refreshments and bonfire. Friday, January 14 and Saturday, February 4 (start time TBD). 
 Outdoor Exploration update 
Blackhawk's Outdoor Exploration program held a 3-week fall session this year for Blackhawk members aged 5-14. The fun included learning about "Leave No Trace" principles (see below), building fires and shelters, and large-scale nature art projects. We always wrap up each meeting with a family tug-of-war! Many thanks to Heidi Ganshaw for coordinating the art projects and Lisa Kruse for leading the fire/shelter class. Thanks also to all the enthusiastic parents who stepped in to assist in snowy, cold and sometimes rainy weather. 
If you are provisionally interested in volunteering as a small group leader or assistant for the 2023 Spring session of Outdoor Exploration (4 TBD Spring Sundays; 3-4:15 pm), please contact Jill Stevenson at jill.stevenson@blackhawkskiclub.org; planning will commence shortly. No experience necessary but must be an enthusiastic lover of kids and nature. Lesson plans/training will be provided.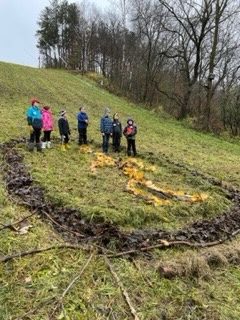 Some Outdoor Explorers on Hill 5 display their skier symbol made of natural materials.  
 Leave No Trace Principles 
Although Blackhawk Ski Club is a developed area, we can still walk lightly on the land to reduce our impacts and promote habitat for wildlife and enjoyment of other members.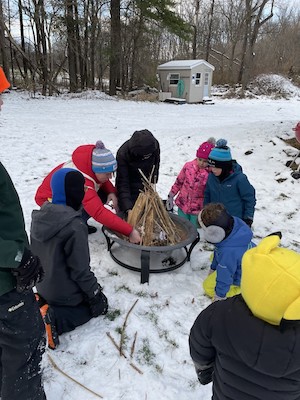 Outdoor Explorers practiced digging cat holes for human waste, learned when and where to make a fire, explored how to pack food and wash/cleanup on an outdoor adventure.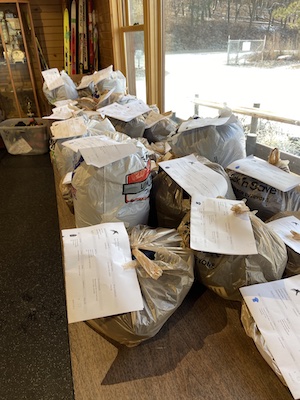 Clothing update: Orders from the Blackhawk fall store are here! Pick up your items in the West Chalet. 
Upcoming & Ongoing Events 
See the Club Calendar for the complete listing