The Safety Issue – please read! 
Let's be real for a moment: tensions among all winter-loving humans are high. We are sad to see our winters shortened to a few weeks and even more concerned that the window for some of our best moments is getting smaller every year. This year has been particularly hard with the hopefulness that we all experienced at the solstice only to be dashed by the warmth and rain of late December.  For those of us who have spent hours making snow, we share additional disappointment of seeing our work literally melt away. (If you see a snowmaker or Casey around the club or the community, thank them! We wouldn't be where we are now without them!)
All that is to say, let's work together to make the most of this season. The alpine slopes are in amazing shape! Thanks to our snowmaking team led by Casey Bingham, we have enough snow to set gates and hold lessons and practices of all kinds (jumping, nordic, and alpine). The Siberian Highway is deep and wide, and mountain bikers and hikers have an extended season this year.   
It is also to say, please extend some grace to the member who is doing their 300th loop of the Siberian Hwy to train, whether they are 7, 17, or 77. And to our jumpers who are not yet able to get on the 30m jump. And to the fat biker who made the investment in the bike but who has yet to have natural snow to ride. 
Let's stay safe and courteous to each other and recognize how fortunate we are to have the amount and condition of snow that we have at the club! Again thank a snowmaker (and Casey) today!
Amy Grunewald, Club president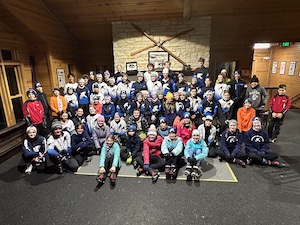 Our middle and high school Blackhawk Nordic Ski Team
Safety, training and fun – all 3 are possible! 
Tow Rope Safety: Please read this information! Most importantly, do not wear loose clothing when using a rope tow. Especially scarves, belts or harnesses and gloves, mittens and sweatshirts with cords hanging from them. These items may wrap themselves around the rope causing injury.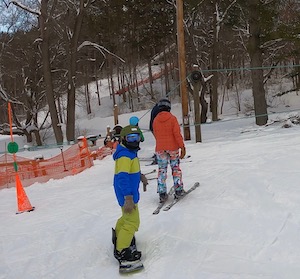 Grooming Safety  
As soon as programs and activates wrap up at the club each night, the grooming crew gets started. If you are at the club after 8pm, stay away from the big yellow machine. At all other times, if the groomer is out, please give it a wide berth. Most of our groomers are member volunteers with varying degrees of skill navigating close objects/people. XC skiers, if you are out, it is best to move away from the Prinoth at right angles, and not to follow too closely behind.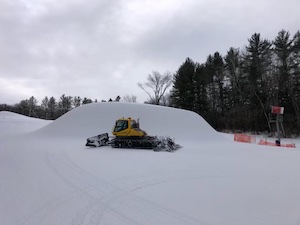 Nordic/Alpine Safety 
We are one of the few ski areas that welcomes alpine and nordic skiing at the same time. With some simple parameters, we can do both safely, and everyone can have fun. 
Hill #2: The lower tower fan divides the designated alpine area from the nordic area. Skiers right is for alpine; skiers left for nordic. Alpine skiers: when making the turn from hill #1 to go to #2 tow, please stay to the right of the tower fan. 
Hill#6: Alpine skiers need to be aware of xc skiers on #6 and nordic skiers need to climb on the left only. Everyone, stay to skiers' left!  
Hill #4: Avoid xc skiing during open ski hours. 
Traversing from West to East Alpine slopes: Alpine skiers use the Siberian Hwy to access slopes on the East side of the property and to return to the west side (and vice versa!).  This stretch of snow is part of the cross-country loop (and in early winter is the only cross country trail available, and is multi-directional).  Please use caution when traversing, especially from West to East. The area below the hill#2 tow is a slow/caution zone, especially through the narrow trail between the biathlon parking area and shelter. Nordic skiers need to be alert to alpine skiers traversing between the two sides of our club. During XC and Biathlon races, no traversing between West/East is permitted. 
Well Water Supply Pipe: The well water supply pipe running along the east side of Hill 6 and continuing to the pond is fragile and would be difficult to repair mid-winter. Please do not walk, ride, ski or stand on the pipe. Bridges and supports have been added at trail crossings. 
Trail Use Reminder: Hiking is not permitted on any groomed trail, including the Fat Bike/MTB/Ski Trails at any time. Snowshoeing is permitted on mtn bike trails and ungroomed areas. Skis only are permitted on nordic ski trails. If you are leaving footprints, you are damaging the trails. Dogs are limited to parking lots, woods (off trails) and roads (be careful!). Leashes are needed at all times. 
Happenings: 
Regional Biathlon Race THIS WEEKEND! Come out and see youth and adults ski fast and shoot straight! Blackhawk is hosting a regional biathlon with athletes from several states. Races are Sat and Sun mornings, 9am-1pm. Following the Sunday race, there will be a middle school and high school cross country ski race.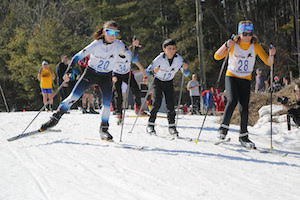 Women's Alpine Ski Clinic Jan 22 3-5pm 2 spots left; contact kelsey.berg@blackhawkskiclub.org 
Women's Cross Country Ski Friday, February 13 
Join fellow Blackhawk ladies on an evening ski Fri, Jan 13.Come anytime after 5:30 and stay as long as you like! Skate or Classic, casual ski to connect with others at the club. Hot drinks and treats provided. Biathlon Haus is the brown cabin at the bottom of hill#2, please only 4WD vehicles, others can park at West chalet and walk down the perimeter trail on the west side of parking lot. Questions? Email xckids@blackhawkskiclub.org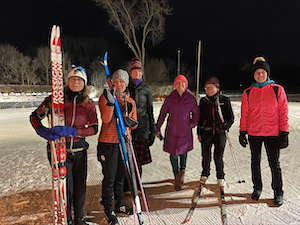 NEW: Masters Cross Country Ski group 
Inviting Blackhawk master members that are interested in meeting up for a weekly Wednesday night group ski on the Blackhawk trails.   
Who: All Blackhawk Master Nordic Skiers from those new to skiing to seasoned racers.   
When: Wednesday nights beginning January 18 from 7:00 - 8:30 pm 
Where: Meet near the Biathlon House/Biathlon range 
What: Each week will have some type of structured workout and/or a short time trial 
Please contact Paul Kulas at paulkulas13@gmail.com if you would like to be put on an informational mailing list or would like more details. 
Save the Dates:  
February 18 Winter Carnival at the West Chalet: food, games and festivities! 
Ski Jump Tournament dates Sunday, Feb 12 
Hugh Jass bike race Saturday, Feb 25