Update your household info in SkiClubPro! Registration for returning Full and Limited Access Members (from 2021-2022 season) begins September 19. Prior to registration, please sign into our new Ski Club Pro platform at https://blackhawk.skiclubpro.team and update your household information. 
Keep your parking pass! We update with annual stickers, so don't throw away the plastic original pass.  It's like a license plate, just add a sticker each year! 
Prime the Pump Fundraiser Continues 
We need YOU!  If you haven't already donated to the Prime the Pump campaign, now is the time. Efficient snowmaking impacts all of our winter programs directly, and all of our programs and memberships indirectly – running a more efficient snowmaking operation allows more funds for other things at the club.   
So if you haven't given yet, please consider an end of summer donation: https://www.blackhawkskiclub.org/donate. Electric setup for the pump far exceeded our estimates, and we welcome any amount towards getting the pump up and running for the 2022-2023 season! Questions or interested in volunteering? Please let us know: Board@blackhawkskiclub.org  
Run the Hawk TOMORROW, August 27! 
Join us TOMORROW, August 27, for the first annual running event at Blackhawk this summer. Run the Hawk includes team and individual ultra runs, a fun run, a beer tent, and all kinds of other fun, too!  Blackhawk members receive a discounted entry (nearly equal to the cost of a mtn bike/hike membership!). Use your email address associated with your Blackhawk account to receive the discount. Learn more about the event here, and check out the options here. Hope to see you at the event!  
Volunteers Needed! 
First up, THANK YOU to our many volunteers and especially our regulars – Pat, Mike, Larry, and Jeff – who have been fixing up trails along the way this summer. As you well know, volunteers keep our club running in all seasons. We need volunteer mowers, trimmers, and folks to provide general help with odds and ends! Sign up here: 
https://www.signupgenius.com/go/10c0d44a8a929a5ffc61-fall 
Summer Nature Exploration  
Our Nature Exploration intern from St. Olaf College, Lily Hubanks, planned and led a "Nature Detectives" program for Blackhawk members aged 4-7. Nature detectives found toads, a kingfisher, a duck, bird nests and unfortunately, a yellowjacket nest.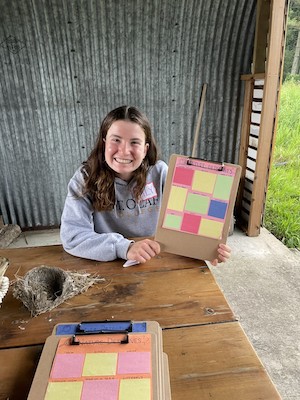 A Blackhawk trail volunteer observed a bobcat crossing the Erdman connector trail recently. Bobcats are common in parts of Dane County and are mostly shy, although they have been known to quietly observe humans. Keep an eye out for tracks in the snow this winter! Exciting!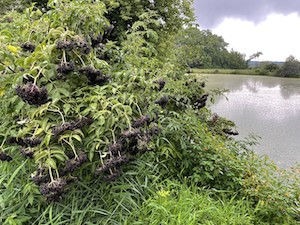 Elderberries weigh down this native shrub on the banks of the snowmaking pond in late summer. Herbalists use these berries to concoct a cold and flu remedy, and birds feast on them.
Share Your Photos With Us! 
Blackhawk's Land Restoration and Stewardship program would like to collect photos of our hard-working trail volunteers enjoying native flora and fauna. Please submit photos of you or your family members or friends with Blackhawk native plants or animals to jill.stevenson@blackhawkskiclub.org 
Support Central Cross Country Skiing's Adaptive Program 
Support Central Cross Country Skiing (CXC)'s annual drawing and have the chance to win a TREK Vale Go! 9D EQ S - Class 3 E-Bike. $100 raffle tickets are available through September 6, and the drawing takes place September 7. 
 
https://cxcskiing.org/drawing 
 
All funds raised go to Central Cross Country Skiing - Adaptive Program and cover the costs of manufacturing and distributing adaptive sit-ski equipment to elementary, middle, and high schools. 
Upcoming & Ongoing Events 
Run the Hawk, August 27 
Fall Open House, Sept. 18, 1pm 
Ninja Mountain Bike clinic, Oct 15-16, 8am-5pm 
Summer Youth Mountain Bike Lessons (August, East Chalet): M/T/Th 6-7pm, W 4:30-5:30pm 
Fall Youth Mountain Bike Lessons (Sept-Oct, East Chalet): T 5:30-6:30pm 
Middleton Mountain Bike Team (Aug-Oct) 6-8pm 
Masters Biathlon & HS youth biathlon (May-Oct) Wed 5:30-7