2023 Blackhawk Volunteers of the Year
We want to recognize our Blackhawk Volunteers of the Year--the volunteers who go above and beyond, dedicating countless hours of their time to make the club the special place it is for adults, kids, and families. Thanks you so much for your time and dedication. 
Ski Patrol Volunteer of the Year – Don Wylie 
The Blackhawk Ski Patrol would like to thank and recognize Don Wylie for his contributions and going above and beyond to support the various activities at our club. In addition to patrolling his regular Saturday morning shift, Don teaches alpine lessons four days a week, and volunteers his time with the snowmaking crew. Don is an asset to our ski patrol and regularly assists with our Outdoor Emergency Care classes and refresher every year. Don was recently recognized last year by Blackhawk for his thirty years of service as a ski patroller with our club. Thank you, Don, for all that you do!! 
Ski Jumping Volunteer of the Year – Nate Gessner  
Nate does more behind the scenes things for ski jumping than he ever gets credit for. In July and August, when our program is not even going, Nate still comes out to Blackhawk weekly to do off season projects and get things ready for the jumping season. If you are wondering why our program was able to start on time the majority of the winter, you have Nate to thank for that….and Noah and Erik. I cannot think of anyone more deserving for volunteer of the year than Nate.  His commitment to doing whatever it takes to keep kids skiing is incredible. 
Outdoor Exploration Volunteer of the Year – Lily Hubanks  
Lily volunteered in a leadership capacity for the newly formed Outdoor Exploration program as an intern. She developed programming, considered needs of the club and members, and helped to carry out programming.  In addition, Lily taught cross-country ski lessons this winter when home on break. Thank you, Lily, for your work at the club!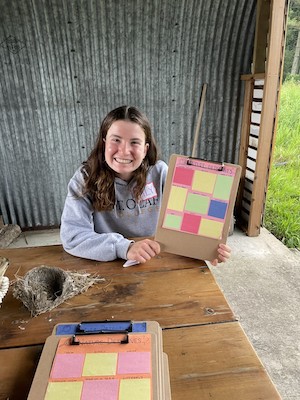 Snowmaking Volunteer of the Year – Matt Ginder-Vogel 
We are grateful for all of our volunteers, but this year, we have chosen Matt as our Volunteer of the Year.  He was a part of most of our snowmaking runs and came in at different times in the process (set up, running the system, and shutdown), and he helped with whatever was needed. His willingness to do any task asked of him helped us keep the system operating and the snow blowing, which we did a lot!  This year we were open well into March and the XC trails until almost April!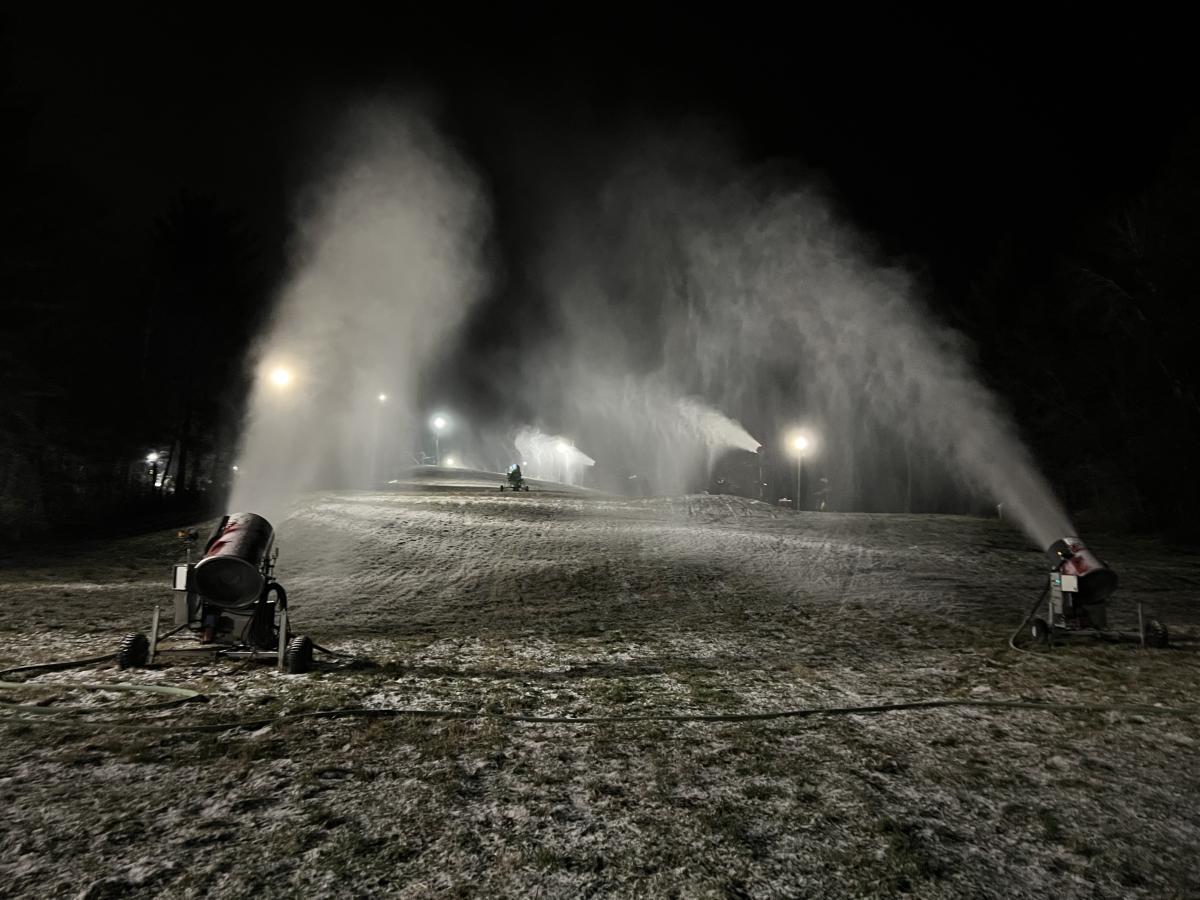 BNST (Blackhawk Nordic Ski Team Volunteers of the Year: Bob and Melissa Hubanks  
The volunteers of the year for Blackhawk Nordic Ski Team are Melissa Hornung and Bob Hubanks. This husband-and-wife duo makes our team go, starting with registration and gear coordination. No registration, no team! No gear, no skiing!  
Bob has ingeniously upgraded our ski fleet and moved to a more sustainable model of rental in one fell stroke. He also helps cheerfully and tirelessly with race waxing, wax teaching, and all the little gear problems that emerge during the season. Melissa engages with almost every aspect of the team: hunting down registration docs and signatures, shepherding skiers at practice, keeping the calendar, hosting fun events.  
Everyone on BNST leans on Melissa and Bob, whether they realize it or not. As coaches, we see how their dedication makes BNST a high-quality program. We are super grateful that they love to ski and share their talents with BNST. Thank you, Melissa & Bob! 
Nordic Kids Volunteer of the Year – Mike Engen  
Our Nordic Kids program is heavily reliant on volunteers and every parent helps out at least 2 hours during the season.  But Mike Engen has taken volunteering to another level.  He not only instructs on both of our lesson days, he also leads the care of our equipment fleet. This entails everything from getting kids sized up in the fall and leading the waxing effort to noticing ways to improve our small trailer to make it easier for parent volunteers to do their job of handing out and returning equipment. Mike also brings his 3 kids to ski and his wife, Christine, is an assistant instructor with our littlest skiers.  Thank you for all that you do, Mike!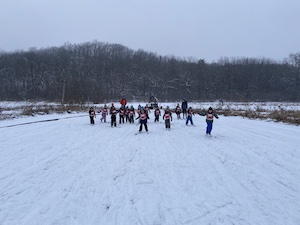 Tele-skiing Volunteer of the Year – Brian Garlock 
Brian took the initiative to plan and organize numerous telemark night events, including the Tele Film Tour and inspired many tele skiers to get out, free their heal, and improve their technique and turns! Thanks,, Brian for your organization and motivation! 
Kids Mtn Bike lessons Volunteer of the Year – Jessie Liller  
Jesse has been a fixture at our mountain bike lessons for a number of years. He has also jumped into helping out in our ski and board school as a snowboard instructor the last few years. Jesse is the kind of guy you know loves helping and enjoys working with the kids and is likely also having as much or more fun than they are. This last winter, Jesse volunteered his time, tools, and skills to create two rails for the ski and board school. I'm positive he relished watching the kids enjoy the new feature, and I have no doubt sliding his board across it was almost as gratifying. His thoughts, ideas, passion for teaching, and presence year-round is noticed and appreciated. 
Ski and Snowboard School -Volunteer of the Year - Benji Orcutt 
Benji has been a very valuable asset to the ski and board school for a number of seasons. He's the kind of guy who identifies a bottleneck, proposes a solution, and leads the effort in implementing the fix. He is also someone who can be counted on week in and week out to arrive at lessons early, jump right in the mix, and stay until the last lesson is over on very busy Saturday mornings. We truly appreciate everything he has done and continues to do for the Ski and Board School. 
Mtn Bike trails Volunteer of the Year – Larry Meade  
Larry Meade' s career working in the landscaping business has come in handy as we work to improve our trails and the woods and fields around them. Whether raking trails, cutting up fallen branches, or improving trails using heavy equipment, Larry can always be counted on to come early, and stay late. 
BART (Blackhawk Alpine Race Team) Volunteer of the Year – Russ Tieman  
Russ is a superstar! He has helped a ton with grooming for the club and also has helped with snowmaking over the years. He's the first to help during practice by assisting with set up, tear down, etc. He also reached out to the coaches seeking additional knowledge on athlete skill progression, so he could reinforce what coaches are telling the athletes. We are very fortunate as a team and club to have Russ and his family as part of the program! 
Driftless NICA Mountain Bike Team Volunteer of the Year – Brad Kerl  
Brad is a humble, thoughtful, and intentional leader for the kids, with a focus on reaching ALL kids, especially those who may not always be keen on racing, etc. He often says "let me know what needs to be done, and I'll do it," and that is greatly appreciated! 
Biathlon Volunteer of the Year – Paul Brogovich – Nordic ski patroller
Paul is a Nordic Ski Patroller who regularly volunteered his time twice per week to serve all the Nordic programs.  Paul was called into service this season for serious injuries sustained by Blackhawk Nordic Ski Team and Biathlon members and handled the situations very professionally.